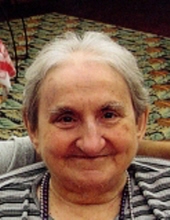 Obituary for Mary Ann Pipcynski
Online Obituaries



Mary Ann Pipcynski, 81, of Scranton, died on Friday, October 27, 2017 at The Jewish Home of Eastern Pennsylvania.



Born in Scranton, she was a huge fan of Elvis and loved spending time with her family, especially around the holidays.



Mary Ann is survived by her son: John Pipcynski of Spring Brook Twp, her grandsons: John and Jason and her great grandchildren: Eric and Isabelle. She was preceded in death by her daughter in law: JoAnn Pipcynski.



Services and cremation will be private. In lieu of flowers, memorial donations can be made to Griffin Pond Animal Shelter, Attn: Memorial (Honor) Donation, 967 Griffin Pond Road, S. Abington Township, PA 18411. Arrangements are entrusted to Brian Arthur Strauch Funeral Homes & Cremation Services, LLC in Spring Brook Twp. To share your fondest memories of Mary Ann, please visit the funeral home's website or Facebook page.