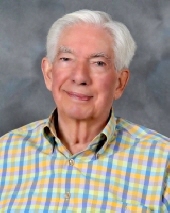 Obituary for Mr. James R. Shorten
Online Obituaries

James R. Shorten, 90, of Lake Ariel died on Saturday, November 11, 2017 at Hospice of the Sacred Heart Inpatient Unit in Dunmore. His wife of 58 years, the late Elizabeth Betty (Gardner) Shorten, died April 17, 2014.

Born in Scranton, Jim was the son of the late Russell and Ollie (Roesch) Shorten and proudly served in the U.S. Navy. An entrepreneur for over 70 years, he owned several automobile dealerships in the Scranton and Wilkes-Barre area and was the founder of Shorten Homes in Dickson City, which is currently celebrating its' 40th year in business. He was honored as Businessman of the Year and was always very active supporting the community throughout his life.

Jim is survived by his two sons: Jimmie Shorten and his wife Kim of North Myrtle Beach, SC. and Barry Shorten and his wife Cathie of Jefferson Twp.; his 6 grandchildren: Dan Shorten, Rusty Rulapaugh, Brian Shorten, Jamie Shorten, Stephanie Shorten and Elaina Shorten; his three great grandchildren: Avery, Aria and Lawson.

The funeral service will be held on Tuesday, November 14, 2017 at 10:30 am at Brian Arthur Strauch Funeral Homes & Cremation Services, LLC, 3 First St in Spring Brook Twp. Interment will follow in Forest Hills Cemetery in Dunmore.

Viewing will be held on Monday, November 13 from 4:00 pm to 7:00 pm at the funeral home.

To share your fondest memories of Jim, please visit the funeral home website or Facebook page.