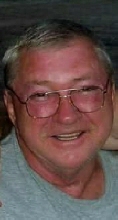 Obituary for Mr. William "Billy" Strausser
Online Obituaries

William 'Billy' Strausser ,67, a lifelong resident of Covington Twp, passed away on Tuesday, October 31, 2017 at Regional Hospital. He is survived by his wife of 50 years Darlene (Stolworthy) Strausser.

Born at the family home in Covington Twp, he was the son of the late Russell,Sr & Regina (Kleckner) Strausser. Billy attended North Pocono School District and drove truck for various companies throughout his career, retiring from Edwards Concrete.

Billy was a hardworking man of great integrity. He found his peace in the woods hunting with his brothers. As an avid NASCAR fan he enjoyed watching the races and cheering on his favorite driver, Kyle Busch. Billy enjoyed spending his time working in his garage on various projects. He always had a stash of candy and made delicious homemade fudge! His smile was contagious and his expressive eyes always let you know exactly what he was thinking without saying a word. Kind hearted and mischievous are only a few words that describe him best. A great animal lover, he will also be missed by his puppies, Trixie and Buffy. He found most joy in spending time with his family and will be truly missed by all of his family and friends.

In addition to his wife Darlene, Billy is survived by his 5 daughters: Tracy Bravo of Haines City, Fl, Jean Morgan & her husband Ashley of Avoca, Lesley Scott & her husband Randy of Bear Creek Twp, Heather Beers & her husband Michael Covington Twp & Heidi Strausser & her companion Samuel Dixon Covington Twp; his 3 Brothers: Russell Jr & his companion Donna Matten of Shillington, David & his wife Sandy of Scranton and George & his wife Kathy of Gouldsboro; his sister Cheryl Strausser of Covington Twp; his 10 grand children; a great grand daughter; several nieces & nephews and a great niece and great nephew. He was preceded in death by his niece: Maureen Bramley.

The family would like to thank the staff at Regional Hospital of Scranton,specifically the Intensive Care Unit and Telemetry for the excellent care and compassion they showed not only to Billy but to his family as well. The family would also like to thank Dr. Von Koch for his part in Billy's care.

The funeral service will be held on Saturday, November 4 at 1:00 pm at Brian Arthur Strauch Funeral Homes & Cremation Services, LLC 3 First St in Spring Brook Twp to be conducted by Pastor Eric Luczak. Private Cremation will follow the service.

Viewing will be held on Saturday from 11:00 am until the time of the service at the funeral home.

In lieu of flowers, memorial donations can be made to the American Heart Association, PO Box 15120 Chicago, IL 60693. To share your fondest memories of Billy, please visit the funeral home's website or Facebook page.