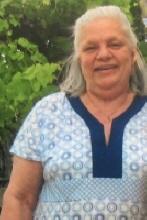 Obituary for Mrs. Clara Ann Pelucacci
Online Obituaries

Clara Ann Scubelek Pelucacci, 74, of Madison Twp., died Wednesday evening in Lankenau Medical Center, Philadelphia after a complication following surgery. She is the widow of the late Gerard J. Pelucacci who died September of 2010.

Born at home in Dunmore she was the daughter of the late Frank Scubelek and Rose Toth. She was a graduate of Scranton Technical High School and after graduating worked at the Grove Textiles in Dunmore. Later she received her CNA certificate from Johnson School and worked in that field for several years. Most recently she worked in customer service for Avanti Cigar Company until her retirement in 2016. She was a member of St. Catherine of Seina Church, Moscow.

Surviving are a daughter Renee Anglin and her husband James, Scranton; brothers George Toth, Jessup and Charles Toth, Mt. Cobb; step father George Toth Sr., Jessup; a sister-in-law Diane Mikulski, Throop; grandchildren James, John, Meghan and Madlyn; two great grandchildren Nina and Lucas; several nephews and nieces, and great nephews and niece; as well as her beloved cat Daisy.

She was preceded in death by a son Gerard J. Pelucacci, Jr. who died September of 2014.

The family would like to give a special thanks to the Doctors and staff of the Lankenau Medical Center for the care and compassion given to Clara.

Services will be private at the convenience of the family. Arrangements and cremation entrusted to Brian Arthur Strauch Funeral Homes and Cremation Services, LLC, 3 First Street, Spring Brook Twp., PA 18444.

In lieu of flowers, memorial contributions can be made to the American Heart Association 7272 Greenville Ave., Dallas, TX 75231 or St. Jude Children's Research Hospital. 262 Danny Thomas Place, Memphis, TN 38105. To leave an online condolence please visit the funeral home's website or Face Book page.