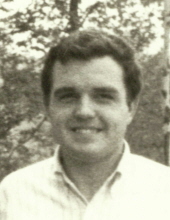 Obituary for William "Bill" Keiper
William "Bill" Keiper, 75, died peacefully with his loving wife, the former Lillian Lee (Caramanno) by his side on Monday, October 15, 2018 at St. Mary's Villa Nursing Home in Elmhurst Twp. The couple was married for 51 years on August 26th.

Born in Scranton, Bill was the son of the late William and Helen (Stefko) Keiper. He graduated from West Scranton High School in 1961 and attended the University of Scranton. Bill served in the U.S. Navy Air Reserves, Willow Grove, Pa during the Vietnam War and was of the Catholic faith, attending The Church of Saint Eulalia in Roaring Brook Twp.

When he was 16, Bill was an entrepreneur, opening his own company selling recreational products beginning with a Vespa dealership. His love of riding motorcycles or "styling" as he called it, led him to a successful business career, owning Luzerne Sport Motor Sales in Scranton and Wilkes-Barre, selling the brands Triumph & Suzuki. Bill designed and built the location on Market St. in Scranton, putting the showroom and service center all in the same building. He was honored to be one of the first dealerships to have a Suzuki automobile in his showroom. After selling the dealerships in 1978, Bill continued to work as a business consultant. He had the ability to analyze any problem in business and life, bringing each situation to wonderful results.

His love of "styling" continued as he rode every Sunday with his Gold Wing Road Riders friends and when it was snowing, he would snow mobile around Lake Winola. Bill was also a member of the Sports Car Club of America. As a skilled artist and woodworker, he created unique projects and always added his personal touch. His love of trains gave his the opportunity to express his creativity and talent.
Most importantly, Bill was a loving and caring husband and a faithful friend who was always willing to lend a hand however he could. He will be missed by all who knew him. Bill had a great work ethic and was organized in every phase of business and life.

We would especially like to thank our very dear friend, Vince Piserchio, for his constant help, love, laughter, strength and support during Bill's illness.

In addition to his wife Lillian, Bill is survived by sister in law: Ann Bevilacqua, his nieces: Denise McGowan, Jo Ann Bevilacqua and Wendy Halloran; his great nieces: Lindsay McGowan, Kristen McGowan Marmo and Abbey Halloran; his great nephews: Thomas, Matthew and Steven Halloran and special friends: Vince and Marilyn Piserchio. He was preceded in death by his beloved brother in law: Joe Bevilacqua, his nephews: Paul McGowan and Thomas J. Halloran and his parents in law: Angelo and Lillian Caramanno.

In accordance with Bill's wishes, he was cremated and services were private. In lieu of flowers, memorial donations can be made to Pa Wounded Warriors Inc., 1117 Country Club Road, Camp Hill, Pa 17112. to a charity of your choice. Arrangements are entrusted to Brian Arthur Strauch Funeral Homes & Cremation Services, LLC in Spring Brook Twp. To share your fondest memories of Bill, please visit the funeral home's website or Facebook page.