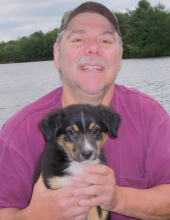 Obituary for Robert James Nuss
Robert James Nuss, 63, of Gouldsboro, died unexpectedly on Wednesday, November 7, 2018.

Bob was the son of Franziska (Gernadt) Nuss of Gouldsboro and the late Robert Richard Nuss. He graduated from William Tennent High School in Warminster in 1972. After high school, Bob played a year of semi professional football and all throughout his life was an avid Eagles fan. He was a member of W.K. Bray Lodge No.410 Free and Accepted Ancient York Masons in Hatboro and prior to retiring, worked as a sheet metal mechanic at the Tobyhanna Army Depot.

Bob enjoyed being outdoors, he could be found chasing that next big buck, casting a line and waiting for his next catch, hitting the slopes, especially at Elk Mountain or enjoying the open road on his motorcycle. Most of all, he loved walking and being with his beloved canine friend, Tobie 2.

In addition to his mom, Bob is survived by his 4 siblings.

A celebration of Bob's life and private interment in Whitemarsh Memorial Park in Ambler will be held at a later date In lieu of flowers, memorial donations can be made to Griffin Pond Animal Shelter, 967 Griffin Pond Road, Clarks Summit, PA 18411. Private cremation was entrusted to Brian Arthur Strauch Funeral Homes & Cremation Services, LLC in Spring Brook Twp. To share your fondest memories of Bob, please visit the funeral home's website or Facebook page.