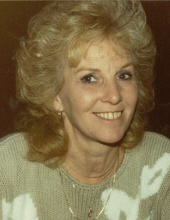 Obituary for Peggy Gellesky
Peggy (Margaret) Gellesky, 78, of Madison Township, passed away peacefully at the Hospice of Sacred Heart Inpatient Unit on Friday, April 27, 2018. Peggy and her husband, Bob (Robert) Gellesky, would have celebrated 46 years of marriage this year.

Born in Wimmers, she was the daughter of the late Howard and Martha (Mitchell) Bird. Before retiring, Peggy worked her way to becoming a manager of the Weis Market in Hamlin.

Peggy was a strong woman who loved her husband Bob and was very proud of her 4 children. She loved golf, Red Hats, gardening, bird watching, garage parties, dancing and karaoke. Peggy's favorite activity was Thursday girl's night where she would get together with her sisters, daughter, nieces and granddaughters. Board games, laughter, food and drinks were the norm. Her house was always open to guests as a comfortable gathering place for family picnics and holidays.

She is survived by her daughter: Janet Algar and her husband Tom; her sons: Bill Kundla and his wife Iris, Jeffery Kundla; her daughter-in-law: Mina Kundla; her brothers: Howard Bird Jr. and his wife Lillian, Bob Bird and his wife Jane, Jack Bird and his wife Diane; her sisters: Jennie Hetsko and her husband Gary and Debbie Bacinelli and her husband Charles. Peggy treasured her 8 grandchildren, 4 great grandchildren and 11 nieces/nephews. She was preceded in death by her son: Edward Kundla Jr

Services will be private & are entrusted to Brian Arthur Strauch Funeral Homes & Cremation Services, LLC in Spring Brook Twp. In lieu of flowers, donations can be made Hospice of the Sacred Heart,600 Baltimore Drive, Wilkes-Barre, PA 18702 To share your fondest memories of Peggy, please visit the funeral home's website or Facebook page.