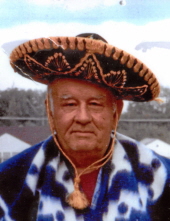 Obituary for John O'Hara
John O'Hara, 89, a guest a Linwood Nursing & Rehabilitation Center in Scranton and formerly of Jefferson Twp. died on Friday, April 13, 2018 at the facility.

Born in Scranton, he was the son of the late Thomas and Sadie (Harkins) O'Hara. John grew up on his families farm on Cortez Road & lived there with his father until he was 60. He then lived with his nephew Thomas Napolitano and his wife Barbara. With Tom and Barb, John traveled throughout the United States, often visiting family or taking in the sights but always making memories. He enjoyed being out doors, sometimes hunting or casting a line for his next big catch. Those who knew John will miss him dearly.

John is survived by his brother: James O'Hara of Jefferson Twp and many nieces and nephews. He was preceded in death by his sisters: Delores Costanzo, Kathleen Enslin, Margie O'Hara and Lucille Kozar; his brothers: Thomas, William and Patrick O'Hara.

The family would like to thank the staff at Linwood for the compassion and care that was afforded to John, they truly made John feel like a member of their family.

A Mass of Christian Burial and interment with Rite of Committal will be held at a later date. Arrangements are entrusted to Brian Arthur Strauch Funeral Homes & Cremation Services, LLC in Spring Brook Twp. To share your fondest memories of John, please visit the funeral home's website or Facebook page.