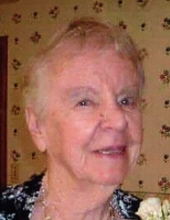 Obituary for Mrs. Mary Elizabeth Ammenhauser
Online Obituaries



Mary E. Ammenhauser, 92, of Spring Brook Twp. died Friday, November 3, 2017 at St. Marys Villa in Elmhurst Township. She was the widow of Richard Wilhelm Ammenhauser.



Born in Scranton, she was the daughter of the late Timothy and Elizabeth Helen (Coleman) Moran. She attended Scranton Technical High School & while in school she worked at the state hospital. She then went onto work at Waitt & Bond cigar & later Parodi Cigar Company. After working at the cigar companies, Mary found her second home and her second family at St. Mary's Villa and worked there until she was 89 years old. From welcoming new patients being the unofficial greeter to a Eucharistic Minister, Mary wanted to make everyone comfortable and feel like they were part of her family. She was deeply religious and her faith carried her through many paths in life, including membership at The Church of Saint Catherine of Siena in Moscow.



Mary was fun loving, had a huge heart to help anyone in need and enjoyed making people feel important no matter what they were doing. She liked to camp with her family and escape away on an adventure to wherever the road led.



She is survived by her children: Mary Ann Morgan of Spring Brook Twp and Robert Ammenhauser of Spring Brook Twp; her grandchildren: Carey Morgan, Sean Morgan and his wife Melissa, Rick Ammenhauser and his wife Renee, Michele Harris and her husband Earl and Donna Ammenhauser; her great grandchildren: Christopher Sawtell, Carissa Morgan, Liam Morgan, Paisley Morgan, Scott Ammenhauser and his wife Naomi; her great great grandson: Parker and her sister Helen Moran.



She was preceded in death by her brothers: John and Tim Moran.



Friends and family are invited to attend Marys funeral which will be held Wednesday, November 8 at 9:30 am from the Brian Arthur Strauch Funeral Homes & Cremation Services LLC., 3 First Street in Spring Brook Twp, with a Mass of Christian Burial at 10:00 am in The Church of Saint Catherine of Siena, 220 Church St in Moscow to be celebrated by Reverend Robert Simon, pastor. Interment with Rite of Committal will follow at St. Catherines Cemetery in Covington Township.



A viewing will be held Tuesday, November 7 from 4:00 pm to 7:00 pm at the funeral home.



In lieu of flowers, memorial donations can be made to St. Mary's Villa, ATTN: activities department, 516 Saint Mary's Villa Road, Elmhurst Township, PA 18444. To share your fondest memoirs of Mary, please visit the funeral home's website or Facebook page.