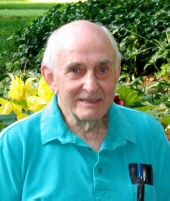 Obituary for Mr. Glen Herbert Simmelink
Online Obituaries

Glen Herbert Simmelink, 93, of Jenkins Twp died on Thursday, November 2, 2017 at Hospice of the Sacred Heart inpatient unit in Dunmore. He was the husband of Bernice (Cierkowski) Simmelink.

Born in Kennewick, WA, he was the son of the late Herbert and Minnie (Edwards) Simmelink. Glen graduated from Springdale High School in Washington and served proudly as a Torpedoman's Mate in the U.S. Navy during World War II. He was a member of the Moscow United Methodist Church and worked as a talented carpenter and woodworker throughout his life, building clocks, furniture and later in his life, inlay and marquetry projects.

Glen was an amazing storyteller, reminiscing about his life growing up in a log cabin while pioneering in the wheat fields and the hills of eastern Washington. It was there where he learned an independent spirit that he carried on throughout his life. He also liked to share about his experiences while in the Navy, from the values and morals instilled in him and that it was when he was once on leave, he met his future wife, Bernice. After getting married, Bernice and Glen began their life together and with their respective talents, were able to build and decorate their homes together. Glen also enjoyed flower gardening and watching and feeding birds. He was an avid fan of the NY Giants.

In addition to his wife, Bernice, he is survived by his children: Doris Simmelink and her husband Chris Sukimoto of Ventura, CA and Glen Simmelink and his wife Carol Goss of Olympia, WA; his brothers: Harvey of Oregon and Russell of Washington and his grandson: Jack Sukimoto.

Cremation and Interment will be private and are entrusted to Brian Arthur Strauch Funeral Homes & Cremation Services, LLC in Spring Brook Twp. In lieu of flowers, memorial donations can be made to your local volunteer fire department. To share your fondest memories of Glen, please visit the funeral home's website or Facebook page.