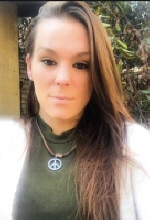 Obituary for Ashley Rollison
Online Obituaries

Ashley Rollison, 26, of Spring Brook Twp died on Sunday, November 26, 2017.

Born in Scranton, she was the daughter of David Rollison of Dallas and Melanie Chester and her husband John Bowman of Madison Twp. Ashley graduated from North Pocono High School in 2009 and worked at Eagle Lake in the security department. Ashley loved being Mom and her girls were her life.

She is survived by her husband Josiah Hargett of Spring Brook Twp; her daughters: Isabelle and Abigail Hargett of Spring Brook Twp, her brother Ian Rollison of Dallas and her step sister Meghan Bowman of Florida.

The funeral service will be Thursday, November 30th at 11:00 am at Amazing Grace Bible Baptist Church, 1201 Church Street in Moscow. Interment will follow in Fairview Memorial Park in Elmhurst Twp.

Viewing will be held on Thursday from 9:00 am until the time of the service at the church.

To share your fondest memories of Ashley, please visit the funeral home's website or Facebook page.