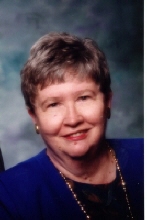 Obituary for Mrs. Barbara J. Holmes
Online Obituaries

Barbara J. Holmes, 84, of Covington Twp died on Wednesday, December 13, 2017 at Green Ridge Healthcare Center in Scranton. She was the widow of William F. Holmes, Jr., who passed away April 27, 2017. The couple celebrated their 62nd wedding anniversary on June 26, 2016.

Born in North Scranton, she was the daughter of the late William and Edith (Beebe) Jervis. Barbara graduated from Scranton Central High School in 1951 and earned her Bachelor's Degree in Education and her Master's Degree in Art from Marywood University. Prior to retiring, Barbara worked as an elementary art teacher for the North Pocono School District for over 15 years and was a member of the North Pocono Education Association.

An avid artist, she also enjoyed pottery and weaving and was a dog lover. She cherished the time spent at her condo in Boynton Beach, Fl and looked forward to making new memories with her friends in Florida.

Barbara is survived by her two daughters: Pamela (Holmes) Brantley and her husband Robert of Leesburg, VA and Michele Holmes of Covington Twp.; her granddaughter: Elise; her grandson: Brian and her great grandsons: Owen & Maddox. Barbara was preceded in death by her son: William Joseph Holmes and her sister: Sally Jervis.

The viewing will be held on Saturday, December 16th from 11:00 am to 1:00 pm at Brian Arthur Strauch Funeral Homes and Cremation Services, LLC 3 First St in Spring Brook Twp. Cremation will follow in Strauch's Pocono Crematory in Gouldsboro. Interment will be private in St. Catherine's Cemetery in Covington Twp.

In lieu of flowers, memorial donations can be made to the Huntsman Cancer Foundation, 500 Huntsman Way, Salt Lake City, Utah 84108. To share your fondest memories of Barbara, please visit the funeral home's website or Facebook page.