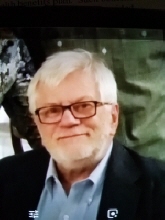 Obituary for Mr. Daniel S. Kosinski
Online Obituaries

Daniel S. Kosinski, 72, of Madison Twp died on Sunday, November 5, 2017 at Wilkes-Barre General Hospital.

Born in Scranton, he was the son of the late Victor and Wanda (Promowicz) Kosinski. Daniel graduated from Moscow High School in 1963 and earned his Bachelor of Science from Northern Illinois University. For 33 years, Daniel worked as a Microbiologist at the former Mercy Hospital in Scranton.

Daniel not only loved his family and friends, but he loved to garden and be in the outdoors. It was said that he was organic at heart.

Daniel is survived by his sister: Victoria Kosinski and her husband James Fox of Madison Twp; his niece: Christine Perrone and her husband PJ of Fairfax, VA; his nephew: Michael Collins and his wife Chrissy of Madison Twp; his great-nieces: Sofia Perrone and Daniela Collins.

In lieu of flowers, memorial donations can be made to WVIA, 100 WVIA Way, Pittston, PA 18640-6197. Arrangements are private and entrusted to Brian Arthur Strauch Funeral Homes and Cremation Services, LLC in Spring Brook Twp. To share your fondest memories of Daniel, please visit the funeral home's website or Facebook page.