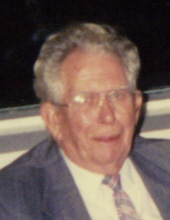 Obituary for David A. Smith
David A. Smith, of Thornhurst Twp. died on Thursday, July 26, 2018 at Regional Hospital in Scranton. His wife, the former Alice C. (Kuhn) died on April 30, 2005 and they were married for 54 years.

Born in Philadelphia, he was the son of the late Albert E. and Ruth (Goebel) Smith. He graduated from Overbrook High School and proudly served in the U.S. Army during World War II. David met Alice at Roxborough Memorial Hospital while she was working as a nurse. He worked various places throughout his life as a machinist, retiring from GlaxoSmithKline.

Active in the community, David served as the chairman of the trustees at Thornhurst United Methodist Church, he was a life member of the Thornhurst Volunteer Fire & Rescue Company, where he was captain of the fire police, was a 50+ year member Moscow Lodge #504 Free & Accepted Masons & was a member of the Philadelphia Canoe Club from 1940 to 1970. He also served as the Scoutmaster of Troop 14 in Philadelphia from 1965 to 1970.

David enjoyed working with his hands, he could be found welding or blacksmithing out in his shop. He looked forward to his annual fishing trip with Ed Moll to Chincoteague Island and looked forward to heading out into the woods searching for the next big buck.

He is survived by his daughter: Karen Ali and her husband Frank of West Virginia; his sons: Kenneth Smith and his wife Carol of Lester and Karl Smith of Schwenksville; his sister: Ruth Kownurko of Bensalem; his brother: Robert Smith of Chester County; his grandchildren: Kenneth, Karl & Michael Smith of Lester, Courtney Sealy and her husband Scott of Arizona, & Nicholas Ali of West Virginia and his great grandchild: Charlotte Smith Lester.

A memorial service will be held on Saturday, September 8 at 12:00 pm at Thornhurst United Methodist Church, 342 Old River Road in Thornhurst Twp. Interment with military honors will follow in the parish cemetery.

Visitation will be held from 11:00 am until the time of the service at the church.

In lieu of flowers, memorial donations can be made to Thornhurst United Methodist Church, 495 Main St Gouldsboro Pa 18424 or Thornhurst Volunteer Fire & Rescue Co., 125 River Road, Thornhurst Twp Pa 18424. Arrangements are entrusted to Brian Arthur Strauch Funeral Homes & Cremation Services, LLC in Spring Brook Twp. To share your fondest memories of David, please visit the funeral homes website or Facebook page.
Previous Events
Visitation
Thornhurst United Methodist Church
342 Old River Road
Thornhurst Twp., Pa 18424
Service
Thornhurst United Methodist Church
342 Old River Road
Thornhurst Twp., Pa 18424